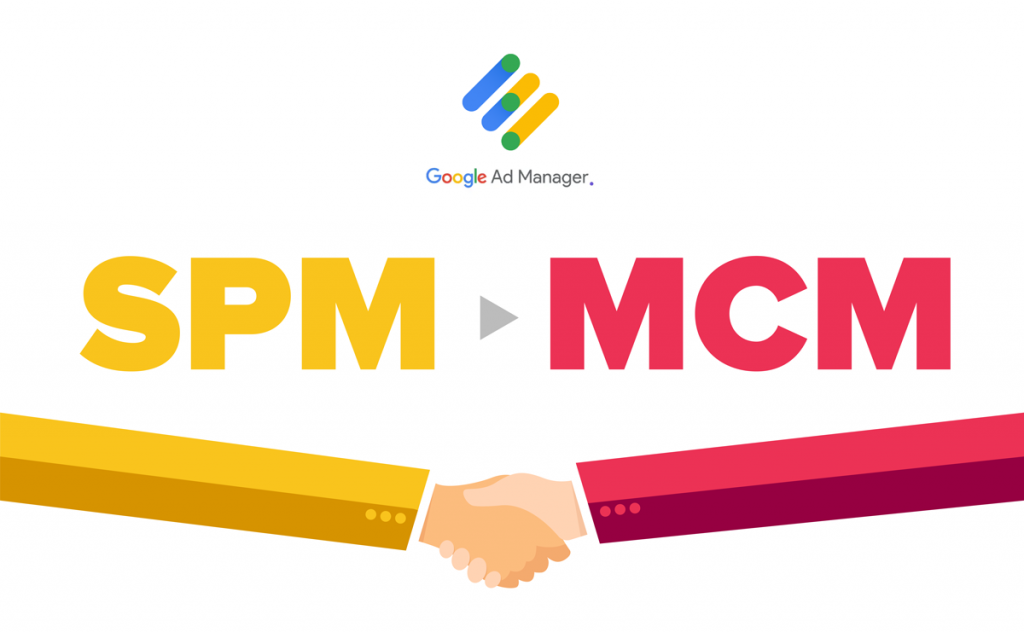 Google is sunsetting their Scaled Partner Management (SPM) program in September 2021 and replacing it with Multiple Customer Management (MCM) for Google AdManager users. Since the SPM program will no longer be active, Publishers are starting to ask the hard questions like; What are my options for accessing Ad Exchange (AdX) demand? How can I easily transition to MCM without loss of ad revenue? What is required of me due to this transition? PubWise is ready to answer these questions and give you everything you need to know about the change to MCM. If you're a PubWise customer we'll be reaching out with specifics and everything we'll be handled. Read on for more information.
Scaled Partner Management (SPM) Program

SPM was a way for publishers, who didn't qualify individually, to access Google AdX through channel partners or larger publishers. This allowed publishers of all sizes to get their inventory in front of a lot more advertisers and access premium demand. The SPM partner handled the optimization and day to day management of the inventory, controlling pricing and yield management, which is why picking a reputable partner was an important step.
Why are they replacing SPM with MCM?

Google has been discussing the replacement of SPM for some time now. The goal with revamping the program was to make it more transparent for both the child publisher and parent publisher. Basically, the authorization levels of the partnership weren't always clear. One of the ways to make things more transparent to partners will be implemented through a selection of delegation types; Manage Account and Manage Inventory. More on this later.
What is MCM?

Multiple Customer Management (MCM) will allow the MCM partner to manage the publisher's ad inventories on their behalf. What's new about the program is the transparency between the partners is crystal clear this time around with new authorization levels called delegation types.

Child publishers can allow a MCM partner/parent publisher to manage your ad inventory using their account by selecting one of two options; 'Manage Account' or 'Manage Inventory'. They do differ so let's discuss the nuances of each.

With the "Manage Account' delegation type, the child publisher allows the MCM partner to manage and monetize all ad inventories from this account. The child publisher sets up a revenue share agreement and each publisher gets payment based on their share. The capabilities and offerings are only what is available within the child GAM account. Meaning, if the child does not have their own AdX and Open Bidding then they are not available.

With the "Manage Inventory" delegation type, the child publisher allows the MCM partner to manage and monetize any portion of the ad inventory using their own MCM account. The MCM partner is responsible for ad trafficking, Ad Manager tags and providing payment to the child publisher. Using "Manage Inventory" can allow the child publisher to use up to 15 MCM partners to diversify performance and they will not have access to the child publisher's account. By utilizing Manage Inventory, the MCM partner can offer all products and opportunities, including AdX and Open Bidding to the child.

So you're probably wondering, which delegation type should I choose? Great question and our team at PubWise is ready to answer this and other questions when you're ready. Each publisher's situation is different and we are ready to walk you through the best option based on your goals.
What are MCM's benefits?

The benefit of MCM for the child publisher is to allow an MCM partner, like PubWise, to manage everything for you, so you can focus on creating content and growing your site, video views and app users.

Who provides MCM?

Google Channel Partners such as PubWise, can manage MCM for child publishers. This program allows PubWise to offer the entire suite of programmatic opportunities including; AdX, Open Bidding, Programmatic direct, and Header Bidding on your behalf. At PubWise, we remain committed to working with you to create an optimal user experience and the best revenue opportunities for your site.

Time is of the essence with changing over to MCM! Google is requiring those in the SPM program to change over by July 2021. We are contacting our clients now to discuss their specific setup and get them moved over to MCM on the right plan as quickly as possible. The transition is not difficult if you work with a Google Channel Partner, like PubWise. Ready to get started? Contact PubWise.